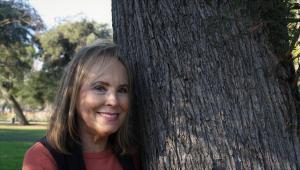 Reverend Mary Lacalle is Unity of Roseville's Senior Minister, since 2011. Born and raised in Detroit, Michigan, she bought a one-way ticket to Sacramento, "in search of a life off the streets." She worked and attended school at Sacramento City College and California State University, Sacramento. Earning a bachelor's degree in Liberal Studies and a Teaching Credential, she taught elementary school in the Sacramento area.
She began her spiritual journey with the Reverends Phil and Dorothy Pierson at Christ Unity Church of Sacramento and served in many capacities as a volunteer, before becoming Director of the Youth Education Program. She credits her background in Unity and teaching school with leading her to discovering the call to Ministerial School. "My second graders truly inspired me to deepen my soul's journey, which led me to become a Unity Minister."
Rev. Mary found Unity during a time in her life when she felt disconnected and separate from the Divine and saw in Unity philosophy a means of transforming and transcending the human tendency toward confusion and conflict, fueled by negative thinking and false beliefs.
Ordained in June 2003 after completing the Ministerial Education Program at Unity School, Unity Village, Missouri, Rev. Mary's first ministry was in Thousand Oaks, CA from 2003-2006 as Senior Minister, followed with service as Associate Minister at Christ Unity Church in Sacramento from 2006-2008. She continues to provide spiritual leadership today: leading Sunday worship, special services and ceremonies, as well as teaching spiritual classes and providing spiritual counseling.
She has served with Unity Worldwide Ministries on the Licensing and Ordination Committee, which evaluates ministers in training for credentialing. She also served two terms on the Board of the West Central Region. Currently, she is enrolled in the Spiritual Direction Program through Unity Worldwide Ministries. Authenticity and integrity are important leadership qualities to Reverend Mary.
"My life was transformed by the Principles we teach in Unity. I believe that everyone can change their lives for the better by practicing the Truth Principles."